Instant Chocolaté (en Anglais)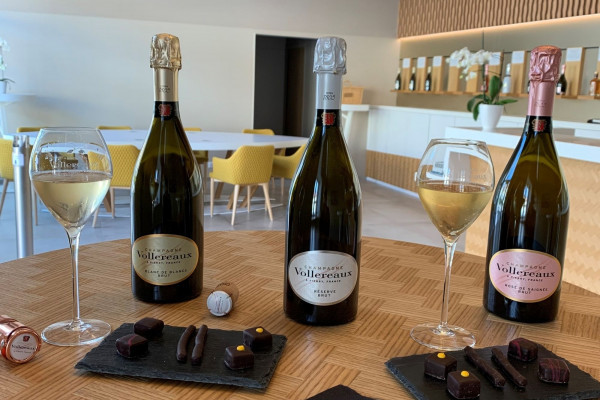 Visite guidée suivie d'une dégustation en accord avec des chocolats.
Visite guidée en petit groupe
Découverte d'une maison familiale
Accord Champagnes et chocolats
Durée
1 Heure
À prendre avec soi

Un gilet, la température des caves est de 10 degrés

Les participants
8 personnes par session
Langues parlées
Anglais
horaires d'ouverture
Informations importantes

Merci de vous présenter 10 minutes avant le départ de la visite.

Merci de vous munir de votre propre masque. Gel hydroalcoolique à disposition sur place.
Lieu de l'événement
Rendez-vous à l'accueil/ réception
Champagne Vollereaux
48 Rue Léon Bourgeois, 51530 Pierry, France
Gratuit
Bus ligne 6 de la gare d'Epernay, arrêt Frère Oudart
Offert par
Champagne Vollereaux
- Pierry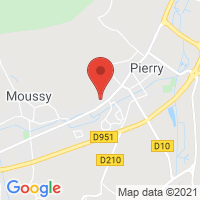 Plus d'informations
Dégustation de 3 champagnes et 3 chocolats artisanaux.
3 Évaluations
An amazing experience
I spent three days in Champagne visiting wineries and tasting champagne. Definitely the visit to Volleraux was the best of all the wineries.

Real, traditional and authentic. The staff was really nice and friendly. The champagne they let you taste is of excellent quality and the combinations with chocolate are sublime.

Highly recommended, can't wait to come back.
de Ruggero Artale à 15/11/2021
Thank you very much for you review, we are glad that you enjoyed your chocolate experience. Hope to see you again. Best regards
Personal touch
We liked the personal attention, because we were the sole visitors. We enjoyed the personal explanation and the visite to all the departments of the production line.
It was amazing to experience the combination of chocolate with champagne. When I drink champagne now it will be combined with nice dark chocolat. It improves the taste of the champagne for me.
de Jan Leenen à 16/09/2021
Thank you for your kind review, We are glad that you enjoyed your chocolate experience. Best regards.
Loved the champagne and chocolate tasting
My husband and I really enjoyed the chocolate and champagne tasting at Champagne Vollereaux. We started with a tour of the cellars and production areas - it was very thorough and well done. This was followed by a tasting of three different champagnes which were paired by delicious and flavoured chocolates from a local chocolatier in Pierry.
Overall, this was a great value for our money and the champagne was excellent, and the staff were friendly. I'd definitely recommend this to anyone looking for a different experience in the Epernay area - as Pierry is just a short taxi ride away.
de Emily R. à 08/08/2021
Dear Emily and your husband, We are very happy with the idea that you loved your chocolate experience in our cellars !! Thank you very much for your kind review. See you soon ;-) Sparling regards, Charlène.
mieux s'informermieux réservermieux voyager
Avis TripAdvisor
64 Évaluations